Fashion 1926

White silk crepe dress with panel inserts, red cloth jacket and pleated skirt — Die Dame 1st May issue no. 17, 1926. Photo: Zander & Labisch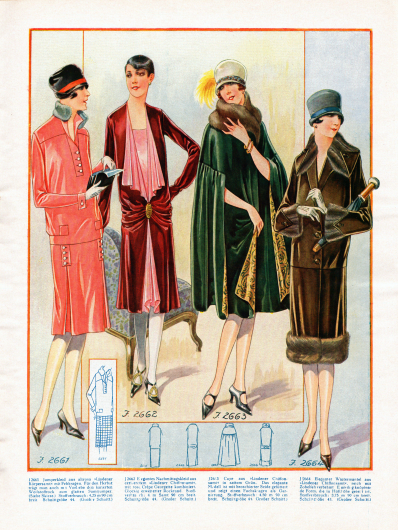 Velvet jumper, elegant afternoon dress, cape and coat, all of chiffon velvet —
Modenschau Issue #166, October 1926, p. 22a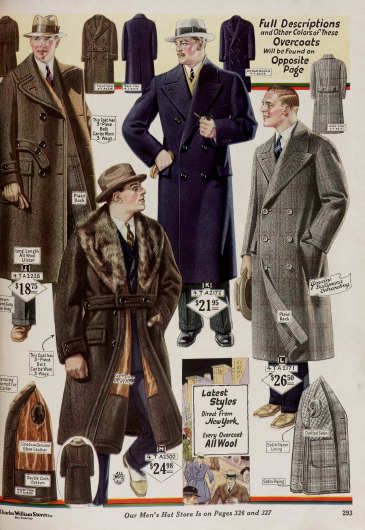 Men's coats in pure wool fabrics. One Ulster, two double-breasted paletots and one coat with marmot fur collar —
Charles William Stores Inc. Fall/Winter 1926, p. 293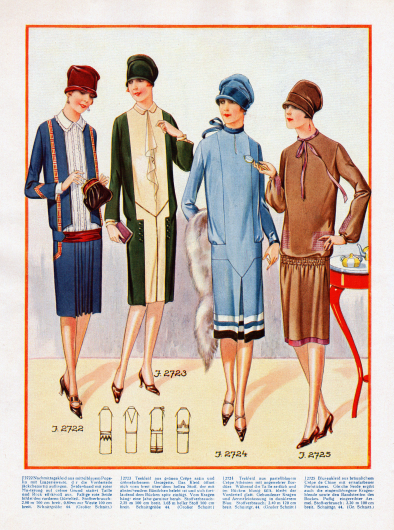 Afternoon dress of poplin with lingerie vest, two tea dresses of crepe satin, and blouse dress of crepe de chine. Shirt collars, jabots and bows —
Modenschau Issue #168, December 1926, p. 22d
Women's coats made of moleskin and other wool fabrics with trimmings of mouflon and squirrel fur. Below left, a lumberjack for women - Sears, Roebuck, Spring/Summer 1926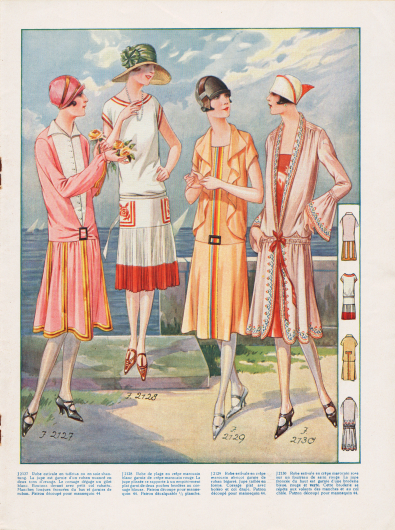 Summer dresses made of taffeta, shantung or marocain crepe. Three skirts are bell-shaped, one is pleated —
La Coquette Issue #162, July 1926, p. 15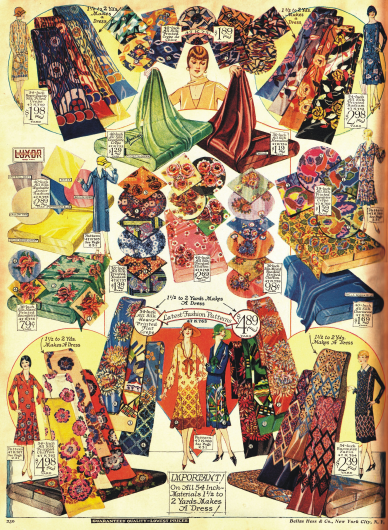 Colorful printed silk, chiffon, Georgette and satin fabrics for summer —
Bellas Hess & Co. Spring/Summer 1926, p. 230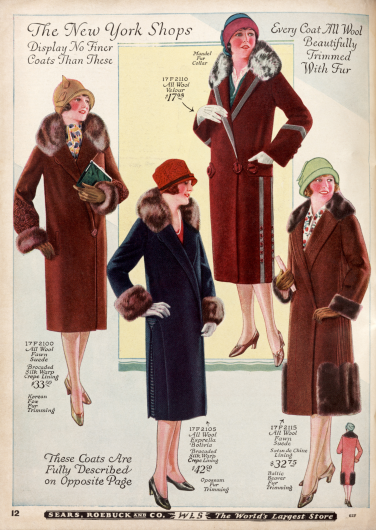 Ladies' winter coats of wool fabrics with Korean fox, opossum and beaver — Sears, Roebuck, Fall/Winter 1926/27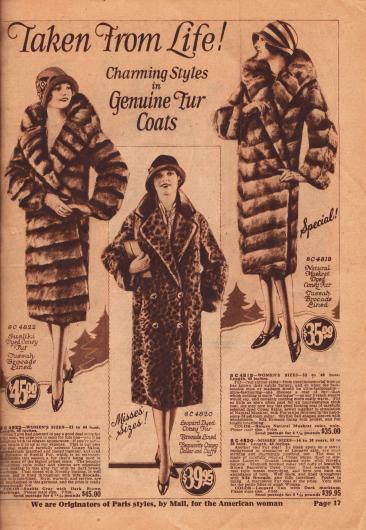 Fur coats made of rabbit furs dyed to resemble more expensive furs such as leopard — Chicago Mail Order, Fall/Winter 1926.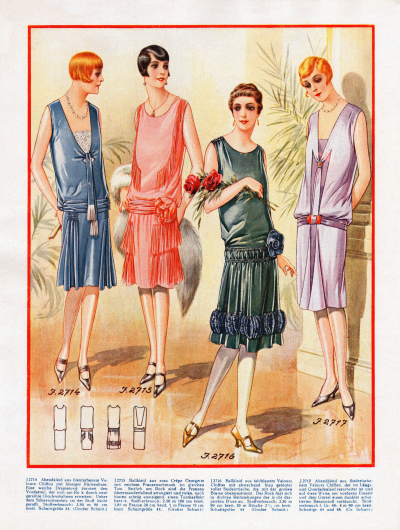 Evening and ball gowns of velour chiffon and crepe Georgette with lightly bloused tops. One dress with fringe —
Modenschau Issue #168, December 1926, p. 22b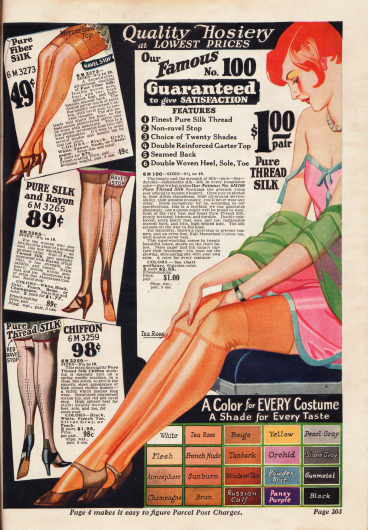 Ladies' hosiery of pure silk, silk rayon and silk chiffon, available in 20 different shades — Chicago Mail Order, Spring/Summer 1926.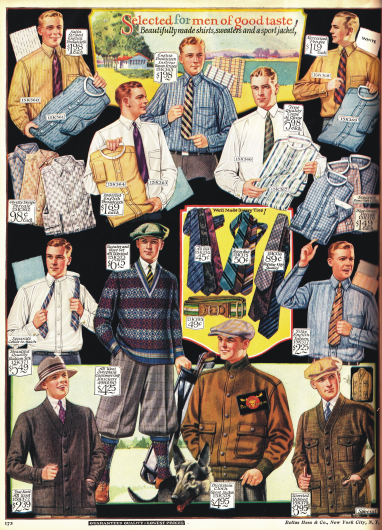 Shirts, sweaters and jackets for sports. A men's golf ensemble with a flat cap —
Bellas Hess & Co. Spring/Summer 1926, p. 172
Simplicity and plainness are the characteristic features of 1926 fashion, and it is only in the manifold details that the diversity of contemporary fashion is revealed. The straight sloping dress line and clear cuts determine the women's fashion, which on the one hand can be decidedly masculine, but on the other hand does not have to do without feminine charm. While morning and street dresses are rather austere and strict, the appearance of the dresses becomes softer and more feminine in the evening.
Although already in the spring and summer season of last year some dresses showed almost knee-short skirt hems, only this year the skirts are climbing up the female leg centimetre by centimetre. The hem of the skirt, however, still clearly covers the knee, as you can easily see in many magazines and catalogues. The waistline remains at the top of the hip since its moderate increase last year.
Costumes In A Distinctly Masculine Manner
The emphatically masculine line is favoured above all in the jumper dresses and costumes, whereby the latter take over the men's style particularly strongly and are often combined with a tie. In contrast to last year, which was dominated by the completes (ensemble), the costume plays a far more important role again this spring. Scottish and small-patterned wool fabrics are preferred for the tailor-made costumes, whose lines are "no longer overly strict"1 like last year, but whose cut and presentation is obviously oriented towards the men's tuxedo.
Also the so called Jumper Dress looks particularly boyish due to its sporty simple line. It consists of a bloused top or sweater (English "Jumper") and is worn with a straight-line skirt, which either has deep pleats or box pleats or is made entirely or partially of pleated fabric. In order to get more variations into the jumper fashion, recently contrasting fabrics have been combined, such as jersey jersey and kasha, silk and jersey, silk and kasha, silk and taffeta, silk and chiffon or lamé and chiffon. Also the contrast between plain blouse or tunic and patterned skirt and jacket is very popular.2
Especially the practical jumper dress is currently very popular with the ladies because of its comfort, high wearing comfort and casual appearance. It is also often chosen as a dress for the afternoon or 5 o'clock tea. However, a departure from the all too strict men's style can also be observed here. Many afternoon dresses are given an emphatically tart note and androgynous line by a strict presentation, which can manifest itself, for example, in high-necked, tightly fitting collars that go down to below the chin, simple bubble collars or puffed under sleeves. Men's turn-down and tuxedo collars, mufflers, plastrons and ties underline this effect. Meanwhile, dresses with gilets (vests) and deep vest-like front inserts with pleated frills and jabots are also frequently seen.3
Ensembles, Capes And Recently Taffeta
Comfortable spring suits offer themselves as light ensembles which, unlike the costumes, have softer lines. Light woollen fabrics, alpaca or artificial silk are preferred for the Ensemble.4 For the weekend trip travel ensembles are offered, which are combined from jumper or coat dress, jacket and with a cape reaching up to the hips, three-quarter or completely long cape.5 Likewise these capes in connection with clothes from Kasha result in an excellent combination for the morning. In general, the cape often replaces the coat completely in many spring collections.6
A fashion innovation of this year's season is the taffeta coat, which replaces the silk coat launched last year. Especially "for the afternoon, taffeta will play a prominent role this time. What was still frowned upon in the previous year is now considered chic again."7 The combination of taffeta dress and coat made of the same material and in the same colour results in an elegant afternoon complete. The slight rigidity of the crackling fabric and its pretentious effect demand a simple and plain finish in order not to appear too capricious. The skirt of the taffeta complete is therefore ideal for several skirt levels or flounces.8
The Fashion Silhouette Of Spring
In contrast to the costume and jumper dress, the spring and summer dresses have emphatically feminine features. Their skirts present slight draperies and bell-like width, despite the straight sloping baseline. Last year's apparently pre-destined tendency to widen the skirt by bell-shaped pleats and an ever-increasing fabric fullness has not continued, because "the bells, which were so popular in winter, have completely disappeared."9 In any case, the dress line should remain as straight as possible from shoulder to hem, and thus be decidedly slim and youthful. Instead, the necessary width of the skirt is achieved by incorporated godets, fan pleats as well as pleats of various colours or pattern pleats. The bell-shaped skirt parts are on all models on the front side alone or are limited to one side only; however, the skirt is never completely bell-shaped all around.10
For thicker fabrics, bell-shaped finishes for the skirt are out of the question, as otherwise the straight line would be lost. Here the fabrics are folded or pleated so that the fabric always collapses automatically and keeps the straight line. Especially the pleated fabrics enjoy great popularity, because the burnt pleats come in many patterns. Serrated pleat borders, squeezed folds, straw braid-like folds or waffle pleats are almost a fashion in their own right. The crystal plissee also has unusually fine and narrow wrinkles.11
The slightly increased waist line since last year is especially underlined by the new preference for bolero dresses, whereby many dresses also like to feature bolero-like effects. Likewise, after a period of abstinence, the belt has regained its place in fashion, resulting in a slight overlap of the top, also known as a bloused effect.12 Chinese crepe, rep, kasha, sequin, heavy silk reps, alpaca, shantung, crepe georgette and chiffon are the fabrics of spring. A novelty of the season is taffeta, which is used for coats, dresses and even costumes. The dominant colours of spring are pink, such as old, wilted and pastel pink, and shades of green. In addition, there are dark and navy blue, grey, white, red, beige, pastel shades, and of course black.13
Bows And Colourful Printed Fabrics
The new thing this season is the material, the colour, the pattern of the textile — the fabric itself. "Colorful prints are the watchword for spring,"14 as the German fashion magazine Die Dame announces the upcoming fashion to its readers in February. Above all thin veil fabrics such as chiffon, crepe chiffon and georgette crepe, crêpe de chine, taffeta in softest qualities and above all silk fabrics of all kinds as for example washable Japanese silk blossom in shimmering and vivid colours, whose decorations range from simple stripes and check patterns, abstract forms up to plant and flower motifs.15 Lace is also used in abundance.
To enliven the simple dress forms, bows are very popular in spring fashion. On all lighter dresses, bows have completely detached the button as a closure and are always made from the dress fabric. They are preferably found on the collar, neckline, shoulder, lap or on the side of the hip. The long ends of the bows sometimes merge into waterfall like arrangements or are deliberately used as a dressing drape. Also narrow ribbons tied into bows are very often found on high-necked collars or as sleeve ends.16
Furs In Summer
Even in summer, the fur coat or fur-trimmed coat for cooler days or driving in an open cabriolet is by no means unusual. Primarily light skins from rabbit or mole as well as fur-like processed fabrics are used and are worn in the colours light grey, brown and white. Even Feh (squirrel), the "fur with the pretty-sounding name, once so disdained by our mothers, is now outstripping the ex-royal ermine,"17 comments fashion journalist Anita Daniel in Die Dame.
Fur Important Part Of Fall Fashion, Too
The new long or three-quarter length autumn coats are garnished with eye-catching fur trimmings such as rabbit or skunk. Starting from a voluminous shawl collar, the trimming is continued vertically to the hem, whereby the coat seam can also be trimmed all around. The mantle is worn very tightly one on top of the other, so that the slender body line is shown to advantage again. The sleeves, on the other hand, are wider and more wrinkled. The fur collar stands up at the neck.18 Even dresses are dressed up with narrow fur stripes on the collar, cuffs and hem.19
The fur coat, which will be worked in the coming winter primarily from mink, broadtail, mole, astrakhan, Persian, antelope or goat, is also of great importance. The fur can also be shorn short or additionally coloured on leopard or giraffe. Simple skins are generally dyed to the fashion colour of the season, namely brown and beige-brownish tones. Especially luxurious evening coats, on the other hand, feature sable, mink, chinchilla or ermine trimming. New is the kimono-like cut of the evening coat with excessively wide sleeves.20
Evening Fashion With Sequins, Rhinestones And Fringes
The evening fashion this year presents itself light and airy. Sleeveless dresses with wide and deep necklines show quite a lot of shoulder and back. Primarily georgette, crepe, chiffon and velour fabrics are used for evening dresses next to silk fabrics, which with sewn-in metal threads of silver and gold lamé create fine embroideries and particularly enliven the evening dress. For the big evening dress sequins, rhinestones and also pearls remain popular.21 Once again, fringes made of silk or lamé are very much in fashion, preferably decorating tea dresses and small evening dresses. A desired side effect of the fringes is the lengthening of the silhouette, which consequently makes the figure appear narrower.22 Draped sashes that extend beyond the skirt hem and taper to a point also achieve and enhance this effect.
Wide Range Of Colours For Silk Stockings
The ever shorter skirts and the gradual habituation to the uncovered female leg now lead to ever lighter colours of the silk stockings, which no longer cover the skin colour. The range of silk stockings now includes a wide selection of colours with a seemingly inexhaustible number of colour gradations. Stockings with such sonorous and imaginative names as "Atmosphere", "Tea Rose", "Pansy Purple", "Orchid", "French nude", "Peach" or "Pearl Grey" can be ordered for one dollar per pair from the US mail order companies Chicago Mail Order or Sears, Roebuck.23 A particularly chic, but rather short-lived trend this year is stockings with embroidered motifs, e.g. with a portrait of the loved one.24 Usually, the heel is particularly reinforced due to the heavy strain, with the heel base often having decorative seams, patterns and embroidery. In addition, ribbed and patterned hosiery is also in vogue, especially for sports.
Artificial silk, known since 1924 under the product name Rayon,25 is now also used for the production of fine ladies' stockings. Rayon stockings are half the price of real silk stockings. With the help of garter straps and suspenders the stockings are attached to the girdle or corset. Garters also prevent the stockings from slipping down.
Simple, Tight Hats
The hat creations correspond in their severity to the simple dress line. The hats are tight and close to the head, their brim is extremely narrow. The hat head is high, broad-round or, more recently, angular-cylindrical, so that they are reminiscent of the stiff men's cylinders. The brims of these hats are extremely narrow and "at some point, on the side, backwards, in front, turned up, bent or pinched all around."26 For the summer months, exotic coarse straw varieties such as Crinol, Ramaillé, Manila, Timbo, Stresa, Bankok, Bengal or Baliluk serve as raw material.
Purple and lilac red, old rose and green in all possible variations are among the preferred colours of the warm season, whereby great importance must always be attached to the colour coordination with the rest of the suit. A scarf in the same or at least matching colour goes without saying. Burgundy red can also be mentioned as a fashionable colour, but in the opinion of the lady this colour will hardly prevail.27 However, on many designer hats, the minimalist surface finish, which often consists only of a ribbon or tinted material, stands in stark contrast to the flowery, decorative hats of American mail order companies, whose models are extremely detailed and playful.
The Two Basic Types Of The Bob
"In the course of its development, the 'Bubenkopf' has actually developed two basic types. And each new fashion varies this basic type,"28 notes the September issue of Die Dame. On the one hand there is the harsh and extremely strict Eton cut, named after the English elite boarding school of the same name and basically identical with the current men's cut.29 In this cut, the hair is cut above the ears and shaved out at the neck. The longer outer hair is combed strictly backwards and optionally treated with pomade, making it slightly shiny. The forehead thus remains free. This variation, says Die Dame, "deliberately dispenses with prettiness. One wants line! The head should also look like something."30
The other variant shows a much softer line, in which the hair is undulated in generous waves. Since not every face with the smooth bubble head or Eton cut appears equally beneficial, artificial hair waves appear again, which can be produced either with a pair of curling scissors or with the help of combs and a special lotion. In the last variant, a lotion, a kind of hair setting lotion, is massaged into the wet hair, which later keeps the water waves in better shape. Then several combs are placed in the hair and moved so that the waves are created in the desired size. Until the hair is completely dry, a net of human hair keeps the hairstyle in shape.31 It is considered particularly chic when a pointed strand of hair on the cheek protrudes from under the bell-shaped hat. Just as apart from these particularly short hairstyles, which could hardly be shorter, long effective earrings in drop form or recently boutons,32 which are however only practicable for evening occasions, look just as striking.33
Artful Long Hairstyles
In spite of the great popularity of short hairstyles and the bob, there are many women who do not want to part with their long hair. These women wear a chignon (a bun or hair knot) at the hairline in the neck. Some Dutte are so artful and inconspicuously worked into the hairstyle that it is hardly possible to distinguish at first sight whether the lady has long or short hair.34
Mode aus Katalogen und Zeitschriften des Jahres 1926
---
Footnotes
1 N. N., Vorschau auf die Fruehjahrsmode. Neben dem Complet wieder das Schneiderkleid, in: Die Dame, No. 10, First February Issue 1926, p. 18.
2 Kaul, Stephanie, Jumperkleider aus allen Stoffen, in: Die Dame, No. 13, Second March Issue 1926, p. 20.
3 Thal, Johanna, Mode-Notizen, in: Die Dame, No. 9, Second January Issue 1926, pp. 41-44, here pp. 41-42.
4 Thal, Johanna, Das Complet am Vormittag, in: Die Dame, No. 11, Second February Issue 1926, p. 18.
5 N. N., Fuer die Reise, in: Die Dame, No. 11, Second February Issue 1926, p. 23.
6 Nagy, Lily von, Capes fuer alle Tageszeiten, in: Die Dame, No. 13, Second March Issue 1926, p. 17.
7 Thal, Johanna, Nachmittagskleider. Taft ist wieder modern, in: Die Dame, No. 13, Second March Issue 1926, pp. 22-23.
8 Kaul, Stephanie, Das Taftcomplet, in: Die Dame, No. 13, Second March Issue 1926, p. 21.
9 N. N., Neues von der Fruehjahrsmode 1926, in: Die Dame, No. 13, Second March Issue 1926, pp. 12-13.
10 Thal, Johanna, Die Mode am Scheidewege. Falten oder Glocken?, in: Die Dame, No. 9, Second January Issue 1926, pp. 7-8; Kaul, Stephanie, Die verschiedenen Arten, den Rock weiter erscheinen zu lassen, in: ibid., p. 21.
11 Ibid.; Thal, Johanna, Muster-Plissées die grosse Mode fuer das Fruehjahr, in: ibid., p. 20; Thal, Johanna, Mode-Notizen, in: Die Dame, No. 10, First February Issue 1926, pp. 40-42, here p. 41.
12 N. N., Neues von der Fruehjahrsmode 1926, in: Die Dame, No. 13, Second March Issue 1926, pp. 12-13, here p. 12.
13 Ibid., p. 13.
14 Thal, Johanna, Buntbedruckter Seidenstoff, der Favorit der Fruehjahrsmode, in: Die Dame, No. 10, First February Issue 1926, pp. 20-21, here p. 20.
15 Ibid., pp. 20-21.
16 Thal, Johanna, Schleifen am Ausschnitt und Guertel, in: Die Dame, No. 10, First February Issue 1926, p. 22.
17 Daniel, Anita, Sommerpelze, in: Die Dame, No. 18, Second May Issue 1926, pp. 6-7.
18 Thal, Johanna, Pelze, in: Die Dame, No. 25, First September Issue 1926, p. 16; idem, Fuer die Strasse, in: Die Dame, No. 1, First October Issue 1926, pp. 19-20.
19 Idem, Kleine Tips fuer die Herbstmode, in: Die Dame, No. 25, First September Issue 1926, pp. 44-46, here p. 45.
20 Idem, Pelze, in: ibid., p. 16; Nagy, Lily von, Pelze, in: Die Dame, No. 1, First October Issue 1926, p. 26.
21 Bdh., E., Modebericht, in: Modenschau, No. 168, December 1926, p. 13.
22 Tanja, Die Wintermode, in: Modenschau, No. 166, October 1926, p. 13.
23 Chicago Mail Order Co., mail-order catalog No. 86, Spring/Summer 1926, p. 203; Sears, Roebuck and Co., mail-order catalog No. 152, Philadelphia, Spring/Summer 1926, pp. 210-211.
24 Worsley, Harriet, Fashion. 100 Jahre Mode, Koenigswinter 2004, p. 176.
25 Nowadays rayon is known as viscose also.
26 Kaul, Stephanie, Hohe Huete, in: Die Dame, No. 11, Second February Issue 1926, p. 21.
27 Ibid.; Thal, Johanna, Die neuen Huete, in: Die Dame, No. 12, First March Issue 1926, pp. 16-17.
28 Kaul, Stephanie, Neue Frisuren, in: Die Dame, No. 25, First September Issue 1926, p. 23.
29 Laubner, Ellie, Fashions of the Roaring '20s, Atglen, Pa, 1996, p. 84.
30 Kaul, Frisuren, p. 23, as note 28.
31 Laubner, Roaring '20s, pp. 84-88, as note 29.
32 "Bouton" here refers to a round bead shape, see: Thal, Johanna, Die Ballmode 1926, in: Die Dame, No. 9, Second January Issue 1926, p. 18.
33 Kaul, Frisuren, p. 23, as note 28.
34 Laubner, Roaring '20s, p. 88, as note 29.