Fashion 1930

Jacket dress in colorful patterned crêpe de chine and light blouse. Skirt extended with bell panels and jacket with pointed sleeve attachments. Photo: Joel Feder —
Modenschau Issue #211, July 1930, p. 4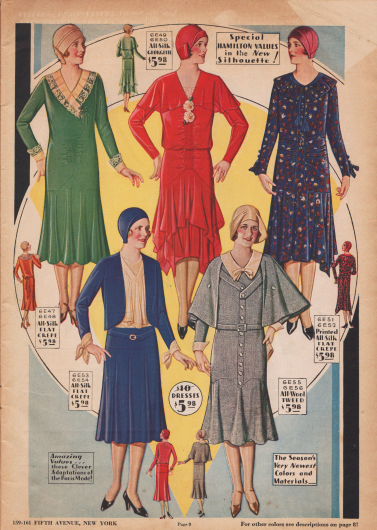 Dresses in the new silhouette with higher waistlines and longer skirts —
Hamilton Garment Co. Spring/Summer 1930, p. 9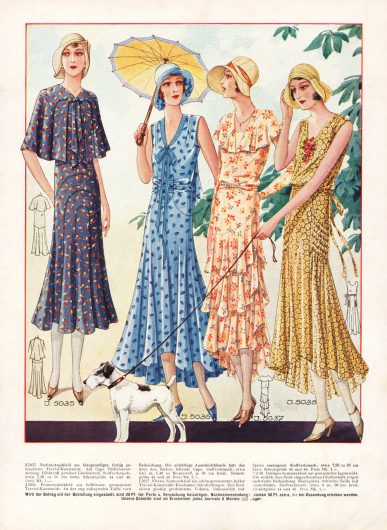 Summer dresses with bell-shaped wide long skirts made of colorfully patterned artificial silk — Modenschau issue no. 210, June 1930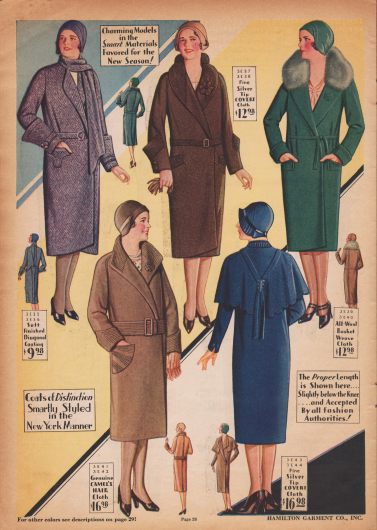 The coats are also adapted to the new skirt length. A model with cape —
Hamilton Garment Co. Spring/Summer 1930, p. 28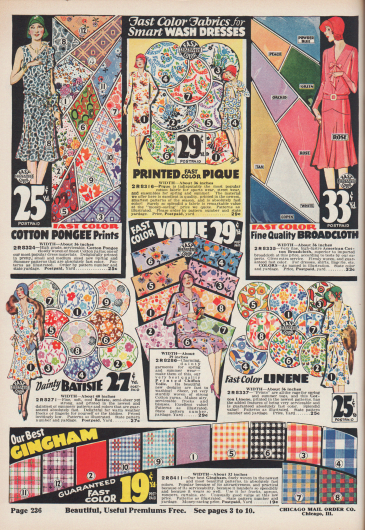 Summer fabrics for dresses and ensembles such as rayon cotton crepe and shantung silk in colorful patterns — Sears, Roebuck, Spring/Summer 1930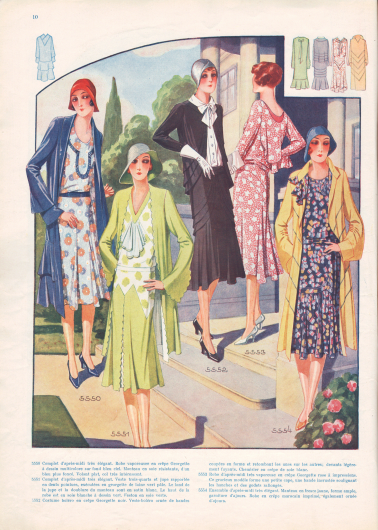 Afternoon ensembles and a bolero dress in plain and colorful printed georgette crepe, or marocain crepe —
Smart Issue #32, 0 1930, p. 10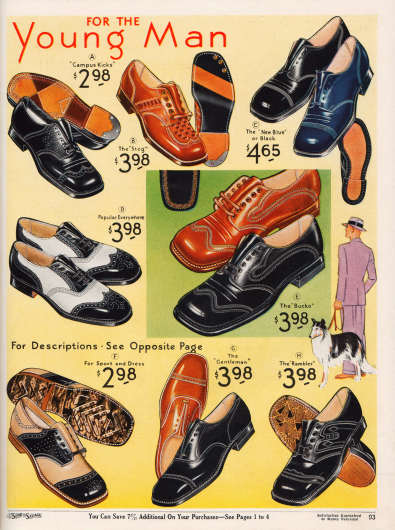 Elegant lace shoes for men in one or two color calfskin with perforations and decorative stitching — M. W. Savage, Spring/Summer 1930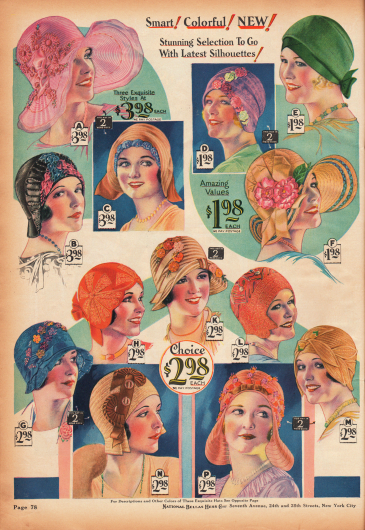 Picture hats and colorful hats for summer made of horsehair, straw wicker, hemp and felt — National Bellas Hess, Spring/Summer 1930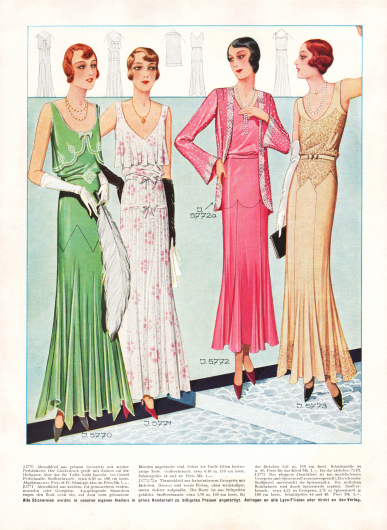 Evening gowns for the 1930/31 ball season of georgette and silk muslin —
Modenschau Issue #216, December 1930, p. 26b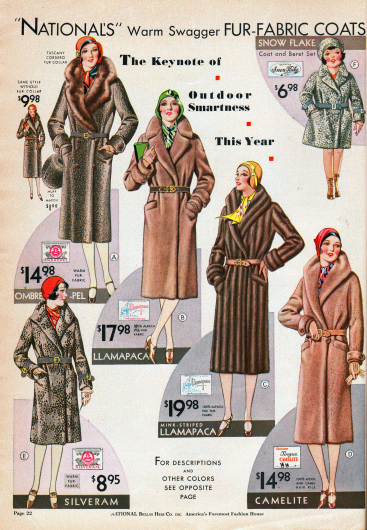 Inexpensive winter coats of dyed fur fabrics for ladies and girls — National Bellas Hess, Fall/Winter 1930-31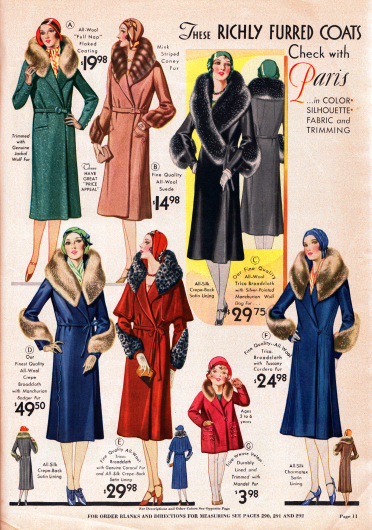 Women's coats with trimmed collars and sleeves of wolf, rabbit or astrakhan — National Bellas Hess, Fall/Winter 1930-31
The year 1930 brought a fundamental change in fashion. The new, all-female fashion line, which has developed with increasing energy over the past three years, is finally taking hold this year. The new silhouette, as many fashion magazines and catalogues refer to it, replaces the uniform and sporty fashion of previous years. Individuality replaces uniformity. The raising of the waistline, the renewed tight waistline of the dresses and the significantly longer skirt hems are characteristic of the new fashion, which thus once again emphasises female lines. At the same time, the change in fashion has also given birth to a completely new style, which aims at the femininity of the woman and replaces the ideal of the wild young girl type and the androgynous, coquettish garçonne of the twenties.
The new fashion line is enthusiastically received and ends the time of apparently always uniform fashion. The British textile trade magazine The British magazine The Drapers' Record from January states in its article "Good-Bye to Uniformity!":
"Last autumn confronted us with a whole lot of changes in fashion […] But the changes seem to have found recognition and the spring season will show a further development of the best new features, […] This spring uniformity will be a thing of the past."1
Hemlines Longer at all Times of the Day
The skirt of the morning dress and the costume reaches calf length again, the hem of the afternoon dress is at least as long or even longer. Irregularly lengthened, unevenly tipped hems or partially multi-layered flounces do the rest. The skirt is especially tight around the hips to make them appear narrow. Only well below the hips the skirt becomes wider and fuller and falls in generous pleats. For evening dresses the skirt is ankle-length or reaches down to the floor. The dresses look very elongated because of the long skirt hems and the high waist, at the same time they are tight and body shaping.2
Although the longer skirt has arrived in all fashion collections, magazines and mail order catalogues in spring and has de facto replaced the short, knee-length skirt, in February "the question: 'short or long skirt?3 to be. Proponents of the sporty modern short skirt are opposed to the advocates of the elegant and feminine long skirt. The controversy also reaches the cinemas in the form of newsreel reports. In March 1930 a camera team of the US-American Fox Movietone News Society conducted several street interviews and asked selected passers-by whether they would prefer short or long skirts.4
Corset Indispensable Again
Not every woman has a naturally even body line with narrow hips, which is necessary to wear the new tightly fitted dresses. The new fashion demands a slim line, which makes bodices, corsets and hip belts indispensable again. Simple panties with rubber inserts are no longer enough. Also a well-formed breast, which is supported and held by a well-worked bra, is important again.5 However, it is left to the taste of the wearer whether bra and hip belt are made of one piece or separately.6
Plain Dresses in the Morning
Women's fashion in summer shows "exceptionally strong style contrasts,"7 according to the first spring fashion issue of Die Dame magazine. Even with the simple dresses the individuality of the wearer is in the foreground. The rather strict and simple dresses for the morning show less playful accents, but complicated and varied seam figures give an idea of the high level of craftsmanship. Tweed, jersey, flannel or flamenga in thinnest designs are the preferred fabrics for this kind of dresses and costumes.
In order to give fashion a lot of room for variety and to avoid any uniformity and excessive sportiness of the dresses, the whole range of trimmings is used to enliven the basically simple basic form of the dress. Flounces, bows, ribbons, small ruffles, ruffles, jabots, narrow collars, beffles and large bibs are very popular in current fashion. In addition, the dress with bolero jacket is again in high demand.8 Variety is the motto.
In 1930, however, there is an obvious preference for short tippers, small curls, cape collars and low-cut capes in all imaginable shapes, types and variations, which are not limited to dresses but are also frequently found on coats and costume jackets. The hips appear incredibly narrow and slim due to this widening of the shoulder area, which is undoubtedly a desired and intended side effect. Due to the extended skirt hems the view from the leg to the arm is again more intensified, which explains the popularity of short, half-length and three-quarter-length sleeves on dresses and jacket dresses this spring.9
Delicate Fabrics and Soft Colours for Summer
For the actual summer dresses mainly fabrics like shantung, pikee, linon, organdy, batiste and glass batiste are planned. The fashion emphasizes youthfulness, which is preferably expressed by the soft but powerful colors of the delicate fabrics. Havana brown, beige, yellow tones such as lemon, banana, ochre, lime blossom yellow, blue in pastel shades such as aquamarine or navy blue and strong red such as vermilion, garnet or coral are the many fashion colours of the summer. These colours are joined by shades of yellow-pink, old pink, flamingo pink, cloud pink and of course white.10
The variety of printed fabrics seems almost inexhaustible this year. The spectrum of pattern stitches ranges from widely scattered leaves and blossoms on silk and crepe fabrics to large, continuous floral decorations on chiffon in vivid, strong colours.11 Especially the summer complete in colourful, floral chiffon is a favourite of summer fashion. A novelty of the summer is satin foulard, which is even thinner than silk and has a surprisingly lively effect due to its colourful patterns. Dotted fabrics are also used a lot.12
Costumes in Favor Again
The jacket dress, or costume, is again in the foreground of fashionable interest. It is the right suit for the whole day. Only the morning and afternoon outfit varies. While the costume for the morning is quite simple, the afternoon costume has more refined and imaginative shapes. But the manly cut of the previous years is finally passé also with the costume.13
The costume jacket is hip-length, has an extremely tight cut and is usually worn openly or only closed on one button. The tight cut causes a tight waist closure. On the top, however, the jacket is cut bloused and soft. The lap can be either tight and tight or quite wide and protruding. A flower in the buttonhole lapel relieves even the more austere models of their severity. The summery costume is made of patterned silk, semi-silk or flamenga, a mixture of wool and artificial silk, which is used as a substitute for tweed. Heavy Chinese crepe fabrics in navy blue, mahogany brown or black, printed with dots or dashes, allow softer costume forms. Also light woollen voile fabric with tiny weaving patterns or plaid in itself as well as shantung, linen and pikee are used.14
The blouse comes through the tight jacket cut more into the field of vision. It is tucked into the skirt, which additionally accentuates the high waist. Fine batiste, satin silk, georgette or chiffon are the preferred fabrics. Apart from white, blouses in yellow-green or matt olive green are in vogue. Blouses in shades of pink are particularly attractive with black or brown costumes or an aquamarine blouse with a black costume. But only generous trimmings such as hems, fine ruffles, jabots and wavy, wide collars, which lie over the jacket, give the jacket dress that special touch.15
Beach Pajamas for Hot Days
On the beach, the woman of today wears beach pyjamas, which can be worn conveniently over a swimsuit. The trouser legs are cut so wide and wrinkled that you could mistake the divided skirt for a normal skirt.16 With this beach suit made of colourful silk, artificial silk or, more recently, cotton, the lady wears a jacket or bolero if required. For the very hot days linen is recommended, for the cool summer days flannel. Striped and ornamental patterns predominate.17 The air swimsuit, which is very similar to the swimsuit for sunbathing, on the other hand, has a backless and more revealing cut, although the tan does not really match the delicate ladylike appearance anymore. For weekend trips to the countryside, sports, leisure time or gardening, shorts or overalls with wide leg dresses are suitable, even if trousers still arouse suspicion for ladies.18
Forehead free Hats and Wide Brimmed Picture Hats
Hat fashion is also highly individual and diverse. On the one hand, there are the very popular caps, bonnets, caps, berets and toques that fit tightly to the head, which clearly shape the head and frame the face softly and tightly. Shifted backwards and pulled over to one side, these caps are worn. The forehead is free, strands of wavy hair are revealed at the sides. Flying caps, pilot's hats, three-master, Dutch bonnets, Biedermeier hats, sailor's and berets or even mitres and turbans serve as inspiration for the milliners and are interpreted and changed in a wide variety of ways.19 Silk, jersey, tweed, taffeta, georgette, shantung, atlas or recently even linen are the preferred fabrics for hats. For summer hats these fabrics are interwoven or combined with straw. Exotic types of straw are processed into soft, fabric-like qualities such as Baku, Bengal, Manila, Panama, Bankok or Bogota are used for these small caps as well as for the large, wide-brimmed hats.20
The big hats with wide brims show a different style. Sometimes the brim of the hat is very wide and protruding, sometimes it is wavy and moderately wide in some models. The thinnest horsehair tips, panama and lightest straw braids are processed in such a way that the face under the large, wide-brimmed hat appears to be hidden under a fine veil. Similarly popular is the barge-shaped hat, which is based on the fashion around 1830. Its brim frames the face softly and tube-like. At the back the barge cap reaches deep into the neck.21
Evening Wear in Historical Styles
Wearer of every new fashion is as always the evening dress. Last season's extended skirt hem has become the floor-length skirt in spring, and the floor-length tails have become the train. The very wide, bell-shaped skirt falls to the ground in deep folds, which are the same length all around.22 The waist becomes tighter and tighter and sits just below the chest. This new elongated line of the evening dress almost tempts to historical borrowings. Directoire, Empire and Biedermeier seem to reappear here and there in a changed, modified form. But especially evening gowns with long, bell-shaped tunics, whose necklines are draped in artfully laid folds and even have Greek braids, inevitably remind of ancient Greek garments.23 These Greek-inspired evening dresses are made of plain chiffon fabrics or delicate silk muslin in white or strong pastel colours. Evening dresses made of patterned chiffon, printed muslin, georgette or crepe satin are also common, as their beautiful lines add a fluttering and lively touch to evening wear. Deep, wide back necklines, flounces and cape are characteristic.
The lace dress, made of silk crepe fabrics and with beautiful lace incrustations, is especially important during the summer months. Loud, bright colours like flamingo red, shrill cinnabar, deep Bordeaux red, strong leaf green, dark violet or Russian green set the tone for the lace dresses. But romantic, subdued colours for the lace dress also have their place.24 Contrasting with the elongated, slender style of the lace dress or the Greek empire dress, the tulle dress presents itself, e.g. in the style of Empress Eugenie, whose skirt is fan-shaped or composed with wide flounces and thus, especially when striding and dancing, very wide apart. However, this type of dress does not suit every type of woman.25
The mostly sleeveless evening dresses naturally include long elegant gloves, the colouring of which should be coordinated with the dress. As with the dresses, the length of the gloves also depends on the time of day. While the glove for the day reaches half the length of the forearm and is elbow-length in the afternoon, the evening glove covers almost the whole arm, so that only a little bit of the arm is visible, which is particularly attractive.26
Small Jacket for Evening
For the evening, the short jacket made of velvet, lace, lamé or brocade with an abundance of foxes prevails over the long evening coat. It fits tight at the waist, often has sips, a cape, a single or multi-layer coach collar or a protruding, sometimes wavy peplum. Capes made of velour chiffon, fur tippets or jackets made entirely of ermine are particularly fashionable, warming tops for cool evenings. These include the long gloves.27
Fur Indispensable in Fall Fashion
There is hardly an fall coat made of fine cloth or wool that does without rich fur trimming. Already in spring fur trimming has been indispensable and could even be seen on costume jackets. Astrakhan, Karakul, Persian, broadtail, ermine, broadtail, beaver, nutria and fox are the furs of the winter season, which are abundantly used to trim the collars of coats, cuffs, gauntlets and oversized shawl collars. They are also used to make ties, capes, tippets, sleeves, small muffs and even caps. The fur coats have also adapted to the new fashion line by becoming significantly longer and showing the curved and fitted line. They present exuberantly voluminous collars.28
Economic Crisis Leaves First Traces
The looming global economic crisis is barely noticeable in the range of mail-order catalogues on offer in the spring, and hardly plays a role in the fashion magazines and women's magazines of the first half of the year, which, as in recent years, are overflowing with advertising. The situation is similar in many American spring and summer catalogues, which give the impression of unbroken prosperity. Here the new fashion is exuberantly presented with the addition "everything NEW", although some of the new clothes have apparently been hastily adapted to the new fashion. Only in the course of 1930 did the economy deteriorate to such an extent that the mail order business had to take appropriate measures. The foreword to the fall and winter catalog of the US mail-order market leader Sears, Roebuck and Co. prophetically states
"Thrift is the spirit of today. Reckless spending is a thing of the past."29
Mode aus Katalogen und Zeitschriften des Jahres 1930
---
Footnotes
1 N. N., Good-Bye to Uniformity!, in: The Drapers' Record, January 25, 1930, pp. 170-173, here p. 170.
2 Kaul, Stephanie; Thal, Johanna, Mode-Notizen, in: Die Dame, No. 12, First March Issue 1930, pp. 64-72, here pp. 64, 67.
3 N. N., Interessante Anfaenge der Fruehjahrsmode, in: Die Wienerin, No. 116, February 1930, p. 1.
4 Video links to this and another video: Inquiring cameraman--outtakes (Fox Movietone News Story 5-548), Fox Movietone News Collection. Moving Image Research Collections. University of South Carolina, in: https://digital.tcl.sc.edu/digital/collection/MVTN/id/6798/rec/72 [last access: May 11, 2022]; Man-on-the-street interviews on fashion--outtakes (Fox Movietone News Story 4-830), ibid., in: https://digital.tcl.sc.edu/digital/collection/MVTN/id/1604/rec/1 [last access: May 11, 2022].
5 Anita, Daniel, Ein verschaemter Begriff – der Buestenhalter, in: Die Dame, No. 20, Second June Issue 1930, pp. 54-55.
6 Kaul, Stephanie, Neue Mieder, in: Die Dame, No. 11, Second February Issue 1930, p. 44; N. N., Die neue Linie, in: Die Dame, No. 1, First October Issue 1930, p. 40.
7 N. N., Sommer-Mode 1930, in: Die Dame, No. 12, First March Issue 1930, p. 16.
8 N. N., Boleros, in: Die Dame, No. 15, Second April Issue 1930, pp. 22-23.
9 Kaul, Stephanie, Beschwingte Sommermode, in: Die Dame, No. 13, Second March Issue 1930, pp. 16-17, 79-80, here pp. 17, 79.
10 N. N., Sommer-Mode, p. 16, as note 7.
11 N. N., Gemusterte Stoffe fuer jede Tageszeit, in: Die Dame, No. 12, First March Issue 1930, p. 26.
12 Kaul, Stephanie, Sommer-Kleider in Pastellfarben, in: Die Dame, No. 16, First May Issue 1930, pp. 22-23.
13 Thal, Johanna, Der neue Stil des Jacken Kleides. Die Jacken sind knapp, offen, die reich garnierte Bluse beherrscht den Ausschnitt, in: Die Dame, No. 14, First April Issue 1930, pp. 22-23, 64, 66.
14 Ibid., pp. 64, 66; Thal, Johanna, Der Strassen-Anzug im Sommer, in: Die Dame, No. 16, First May Issue 1930, pp. 24-25; idem, Fruehjahrs-Kostueme fuer die Strasse, in: Die Dame, No. 11, Second February Issue 1930, pp. 28-29.
15 Thal, Johanna, Die neuen duennen Stoffe, in: Die Dame, No. 13, Second March Issue 1930, pp. 75-78.
16 Thal, Johanna, Der Hosenrock fuer den Strand, in: Die Dame, No. 20, Second June Issue 1930, pp. 58-59.
17 Thal, Johanna, Neue Ideen fuer Strandanzuege, in: Die Dame, No. 18, Third May Issue 1930, pp. 22-23; N. N., Malerische Strandanzuege, in: Die Dame, No. 19, First June Issue 1930, pp. 26-27.
18 Kaul, Stephanie, Die Wochenend-Fahrt aufs Land, in: Die Dame, No. 18, Third May Issue 1930, pp. 26-27.
19 Kaul, Stephanie, Schwarze Kappen mit heller Garnitur, in: Die Dame, No. 14, First April Issue 1930, pp. 27, 67-68, here p. 67.
20 Kaul, Stephanie; Thal, Johanna, Mode-Notizen, in: Die Dame, No. 12, First March Issue 1930, pp. 64-72, here pp. 67-68.
21 Kaul, Stephanie, Spaetsommerhuete, in: Die Dame, No. 21, First July Issue 1930, pp. 22-23.
22 Thal, Johanna, Das grosse Abendkleid. Die Entwicklung eines neuen Stils, in: Die Dame, No. 8, First January Issue 1930, p. 22.
23 Thal, Johanna, Farbige Spitzenkleider, griechischer Stil, in: Die Dame, No. 16, First May Issue 1930, pp. 26-27; Kaul, Stephanie, Beschwingte Sommermode, in: Die Dame, No. 13, Second March Issue 1930, pp. 16-17, 79-80, here pp. 79-80.
24 Kaul, ibid., pp. 79-80.
25 Thal, Johanna, Der Stil der Koenigin Luise, in: Die Dame, No. 26, Second September Issue 1930, pp. 24-25, in this context, pp. 28-29 in the same issue no. 26 are also of interest; as well as: Thal, Johanna, [text without headline], in: Die Dame, No. 1, First October Issue 1930, pp. 22-23.
26 Kaul, Stephanie, Handschuh, in: Die Dame, No. 16, First May Issue 1930, p. 63.
27 Thal, Johanna, Variationen der neuen Abendjacken, in: Die Dame, No. 19, First June Issue 1930, p. 25; idem, Das Abendkleid und seine Jacke, in: Die Dame, No. 21, First July Issue 1930, pp. 28-29.
28 N. N., Jacken und Maentel pelzbesetzt, in: Die Dame, No. 23, First August Issue 1930, p. 26; N. N., Tips fuer die Winter-Mode, in: Die Dame, No. 24, Second August Issue 1930, pp. 22-23; Thal, Johanna, Charakter der Wintermode, in: Die Dame, No. 25, First September Issue 1930, pp. 49-52; Thal, Johanna, Pelze und Pelzgarnituren, in: Die Dame, No. 26, Second September Issue 1930, pp. 57-59.
29 Sears, Roebuck and Co., mail order catalog no. 161, Chicago, Fall/Winter 1930-31, first inside cover.