Fashion 1927

Ensemble by Berthe-Hermance consisting of sweater, pleated skirt and hip-length jacket — Les Modes no. 277, June 1927. Photo: Henri Manuel (1874-1947).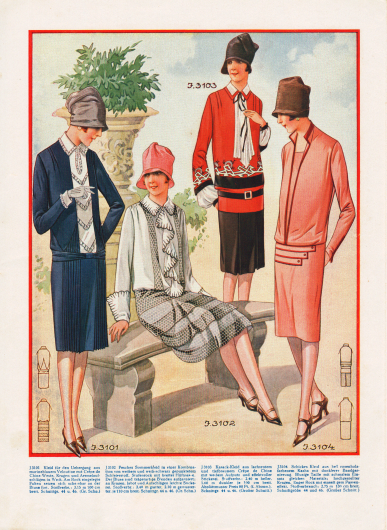 Knee-length summer dresses of veloutine, voile, crepe de chine and soft wool with shirt collars. Second model from left with jabot —
Modenschau Issue #172, April 1927, p. 22.4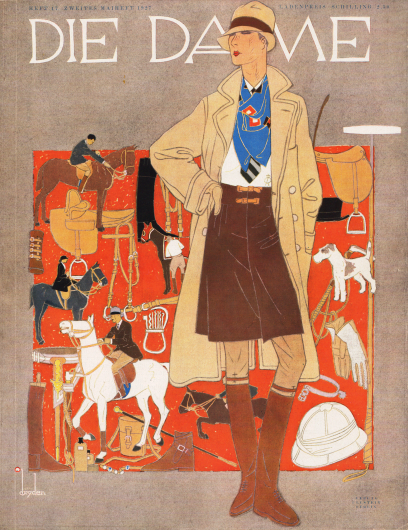 A model in a sporty riding ensemble with a knee-length skirt adorns the cover of the fashion magazine Die Dame in May — Die Dame issue no. 17, 2nd May issue 1927. Cover by Ernst Dryden (1887-1938)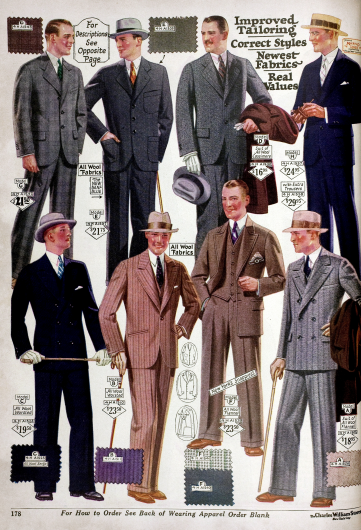 Elegant suits for men made of wool flannel, wool cashmere and wool serge guaranteed to be sunfast —
Charles William Stores Inc. Spring/Summer 1927, p. 178
In 1927 the jumper dress was part of the basic equipment of the ladies' wardrobe. The daily fashion is dominated by the sporty inspired Jumper which leads to a certain uniformity. The models do not differ in cut, but they try to bring variety to the fashion with sophisticated details. For example, people like to sew a jabot onto their blouse or wear a tie for that special touch. Especially often the blouse gets a very boyish collar. Embroideries, facings or a fabric with recent geometric or abstract patterns - borrowed from the formal language of modernism and Art Déco - give the wearer the opportunity to stand out.
This year the waist is already sliding a little higher and is now sitting on the top of the hips. This tendency was already apparent in last year's autumn season.
Skirts as Short as Never Before
In the summer of 1927, the skirt hems become even shorter and end even just above the knee. Thus the title page of the German fashion magazine Die Dame in May presents a knee-free riding costume for the lady. In the same issue an article entitled "The Leg" by Richard von Schaukal appears:
"I have a weakness for legs. I am grateful to my time for letting me see legs. Female legs. […] It is truly a revolution."1
However, this skirt length only lasts for a short time and already in autumn only models with covered knees are shown.
In order to allow the wearer the greatest possible freedom of movement, pleats and bell pleats, which give the skirt a straightforward appearance, are incorporated in addition to the use of pleated fabrics. But also godets are incorporated when sewing skirts. However, they make the skirt to the hem slightly bell-shaped and wrinkles appear.
Evening Fashion 1927
While daytime fashion is climbing new heights in skirts, a completely opposite trend is already emerging in evening fashion. With the knee-short evening dresses, sashes or fabric drapes are sewn on, which lengthen the hem on one side or irregularly - usually in the shape of a tip. Some evening dresses are provided with fringes on the skirt, but these remain rather rare, although today the fringed dress is associated with the typical 20's flapper look.
Headbands are worn as accessories for festive evening occasions - also decorated with feathers - and cigarette holders are also used. Public smoking by women is now more likely to be tolerated than 10 years ago.
Coats Show Simple Line
In spring the lady wears a sporty knee-length coat to the jumper. Characteristic for coats is the shapeless but slim cut. The coat is usually fastened on one or more large buttons on one side, but these are not as large as at the beginning of the decade. Coats without buttons are loosely fastened to the hip with a belt or girdle in the same colour as the coat.
Fashion for Rainy Days
On rainy days trench coats are worn by both men and women. The trench coat was first introduced by the British military during the First World War as a practical raincoat. These are made of water-repellent gabardine or rubber. To protect the sensitive leather of ladies and men's shoes, galoshes (overshoes) made of rubber are worn over the actual shoes. The galoshes are closed by small metal straps and recently also zippers, which are a technical novelty.
Flapper Fashion at its Peak
1927 is the peak of Flapper Mode. The word flapper owes its origin to the fact that young ladies used to wear their galoshes unlocked, which gave the flaps of their shoes a characteristic "flap flap" when walking. The word originated already in the time of the First World War.
Mode aus Katalogen und Zeitschriften des Jahres 1927
---
Footnotes
1 Original German quote "Ich habe eine Schwaeche für Beine. Ich bin meiner Zeit dankbar, dass sie mich Beine sehen laesst. Frauenbeine. […] Es ist wahrlich eine Revolution." Schaukal, Richard von, Das Bein. Eine Betrachtung von Richard von Schaukal, in: Die Dame, No. 17, Second May Issue 1927, p. 7.